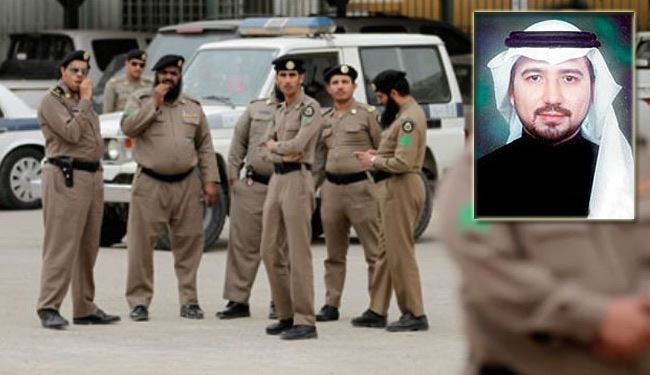 Al Saud authorities released the writer and economist, the prisoner of conscience, Khader Al-Marhoun, after several years of detention.
In a video clip, Al-Marhoun appeared thin, old, unable to move or walk.
A Saudi security force arrested Al-Marhoun in April 2013 from his workplace in Riyadh.
After that, it raided his home and confiscated electronic devices.
Al-Marhoun, a Saudi Management Association member, is an economic analyst who writes for several local and Arab newspapers, including Al-Eqtisadiah and Al-Sharq Al-Awsat.
🔻#القطيف | لحظة وصول المُعتقل #خضر_المرهون إلى بلدته بعد الإفراج عنه، واستقباله بين أهله ومحبيه وسط أهازيج الفرح، وذلك بعد اعتقال دام 8 أعوامٍ في سجن المباحث العامة بالدمام. pic.twitter.com/Y2W07Y96Vn

— ناشط قطيفي (@nashetqatifi) January 8, 2021
Al-Marhoun holds a prominent position in Sharkia and Riyadh's local community, where he spent 23 years as a banker.
His arrest coincided with a security crackdown by the authorities against many opposition cadres, including the arrest of dozens and accusing 16 of them of involvement in an alleged espionage network.
This network was famous for its network of "competencies".
Severe torture
Al-Marhoun revealed, previously, that he was tortured and kept solitary confinement, and that his wife was brought to the prison and his children were separated from their work.
He was also prevented from family visits and making calls.
Qatif and Al-Ahsa regions in the Kingdom have been subjected to a widespread crackdown since 2011.
The Saudi authorities had killed more than 148 citizens, in various forms of revenge operations, including executions and shootings in the public streets.
It is still holding 84 of the victims' bodies and refuses to hand them over to their families, in a flagrant violation of religious and legal sharia.
The prisons are full of detainees, while the number of detainees exceeds a thousand, still suffering from arrest and torture.
The risk of death by "execution" threatens more than 49 detainees, including 11 minors.
Discrimination against Qatif
The Saudi forces' violations against the people of Al-Qatif, in general, are part of an ongoing series of targeting by the Saudi regime.
This is against the backdrop of the peaceful movement that the townspeople began in 2011, calling for reforms in the government system and ending sectarian discrimination against them.
The Qatif governorate is the birthplace of the Shiite cleric Nimr al-Nimr who was executed by the Al Saud authorities in January 2016 after being convicted of terrorism.
Qatif witnesses periodic confrontations between government forces and Shiites who complain of marginalization and discrimination. The Saudi authorities claim that the province has turned into a centre for attacks on security forces, instigated by Iran.
The Saudi forces have already carried out several security operations in the Eastern Province, during the previous periods, which resulted in procedures for arresting and killing "wanted" ones.
The Saudi regime pursues a policy of liquidation and extrajudicial killings on an ongoing basis in the absence of any accountability or transparency and suspicions of targeting opponents under security pretexts.