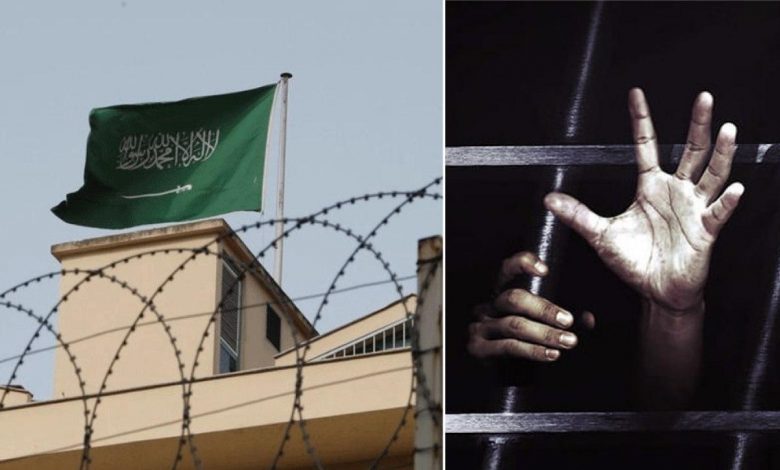 Security circles revealed that a special security squad was formed by orders from the Royal Court to torture prisoners of conscience in Saudi Arabia.
Ex-security Officer, a Twitter account widely known in the Kingdom, said, "when orders come to torture detainees on a certain day, the guards responsible for the cells are asked to leave."
"Individuals come dressed in black uniforms without grading or showing any information indicating their identities or those they are affiliated with in Saudi Arabia, and they are the ones who torture the detainees."
The account indicated that officials in the Royal Court took pleasure in torturing prisoners of conscience in the Kingdom's prisons and detention centres of the ruling regime.
"I swear by God that there are guards, officers, and even influential civil officials who enjoy torturing and humiliating detainees," he added. "I don't exaggerate when I say that mass torture parties are held for detainees in Saudi Arabia. This really happens."
He revealed that mass torture parties are held periodically for detainees in the notorious prisons of the Kingdom of Saudi Arabia.
He added that the prison administration usually gathers prisoners in a large hall, strips them naked and beats them with sticks and iron chains.
He stressed that cases of fainting occur, the hall's grounds and walls are stained with blood, while the executioners laugh in Saudi prisons.
The famous Prisoners of Conscience Twitter account highlighted the commission of Crown Prince Mohammed bin Salman, a "massacre of severe sentences" against sheikhs and preachers who have been detained for years.
The account specialized in reporting the news of the detainees indicated that the Specialized Criminal Court in Riyadh issued rulings against several sheikhs and preachers who were detained for long periods.