Yemen War
Saudi-led Alliance Commits New Massacre in Yemen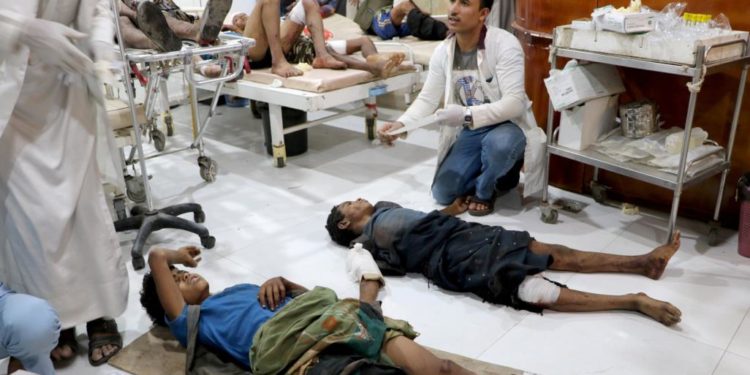 Saudi-led coalition committed a new massacre in an attack on a market in Saada governorate in northern Yemen in a shameful continuation of targeting civilians and civilian facilities.
Fourteen people, including two children, were killed and more than 20 others wounded in airstrikes in Qatabir district in an incident that could amount to a war crime.
Houthi media broadcasted pictures of those they said were victims of the bombing of the popular market in the Qatabir, including children. "There are two children among the dead and 11 among the injured," the director of the republic's hospital, Saleh Qorban, told Reuters.
Houthis Ministry of Health spokesman said that the coalition fighters targeted a crowded market of civilians in the Al-Thabet district of the Directorate of Qatabir.
Qatabir is located near the Yemeni-Saudi border, and witnessing sporadic clashes between both sides.
On the other hand, the spokesman of the Saudi coalition Colonel Turki al-Maliki said in a statement that "what the Houthi militia carried out an attack on the Al-Thabit market is a terrorist act against the Yemeni citizens and Al-Thabit tribes." The spokesman added that the tribes against the Houthis, and did not provide further details.
The Saudi ambassador to Yemen, Mohammed al-Jaber al-Houthi, also accused the Al-Thabit market massacre. "The Houthis targeted the market with Katyusha rockets to terrorize the civilian population and prevent them from revolutionizing them," he said.
Yemeni Information Minister Muammar Al-Iryani blamed the Houthis for the massacre of the market, which he described as ugly, and said they used Katyusha rockets in the bombing.
In August 2018 an incident killed dozens of people, including children who were on a bus in a coalition airstrike on a market in Saada. The Saudi coalition initially said it was aimed at rocket launchers. Later, they claimed responsibility for the bombing and described it unjustified.
Yemeni sources said that the coalition planes bombed on Monday several times Camp Black, a former Republican Guard camps in the Directorate of Sanhan south of the capital Sanaa.
The war escalated with the intervention of the Saudi-led coalition in March 2015 to restore power to the government of President Abed Rabbo Mansour Hadi. The war left thousands of people dead and millions displaced, resulting in the worst humanitarian crisis in the world today.