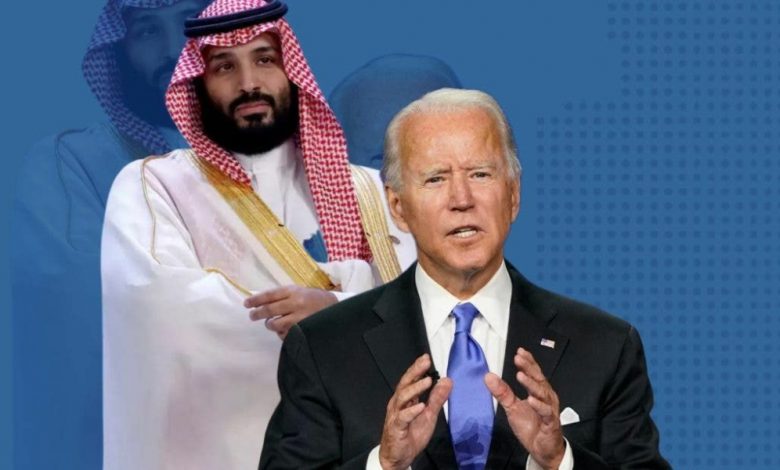 A group of U.S. senators are opposing the Biden administration's first major arms sale to Saudi Arabia over Riyadh's involvement in Yemen's war, three senators announced on Thursday.
A joint resolution of disapproval to block a proposed $650 million in U.S. arms sales to the Kingdom of Saudi Arabia was introduced by Republicans Rand Paul and Mike Lee and Bernie Sanders, who caucuses with Democrats.
While many U.S. lawmakers consider Saudi Arabia an important partner in the Middle East, they have criticized the country for its involvement in the war in Yemen, a conflict considered one of the world's worst humanitarian disasters. They have refused to approve many military sales for the kingdom without assurances U.S. equipment would not be used to kill civilians.
Activists have said Saudi Arabia has lobbied heavily against extending a mandate of United Nation investigators who have documented possible war crimes in Yemen by both the Riyadh-led coalition and the Houthi movement. 
The State Department-approved package would include 280 AIM-120C-7/C-8 Advanced Medium-Range Air-to-Air Missiles (AMRAAM), 596 LAU-128 Missile Rail Launchers (MRL) along with containers and support equipment, spare parts, U.S. government and contractor engineering and technical support.
In a statement Paul said, "this sale could accelerate an arms race in the Middle East and jeopardize the security of our military technologies."
"As the Saudi government continues to wage its devastating war in Yemen and repress its own people, we should not be rewarding them with more arms sales," said Sanders in the joint statement.
The Biden administration has said it adopted a policy of selling only defensive weapons to the Gulf ally.
When the State Department approved the sale a spokesman said the sale "is fully consistent with the administration's pledge to lead with diplomacy to end the conflict in Yemen." The air-to-air missiles ensure "Saudi Arabia has the means to defend itself from Iranian-backed Houthi air attacks," he said.
In a federal election campaign dominated by domestic issues, Candain foreign policy received scant attention. Nonetheless, few issues bridge the divide between domestic concerns and Canada's role globally, like Canadian arms exports to Saudi Arabia.
Re-elected for a third term, Justin Trudeau's Liberal government can forge a progressive foreign policy that weds concern for human rights abroad with its desire for a strong economy and good jobs at home — but that will require ending the sale of arms to Saudi Arabia.
Harper recently defended the LAV deal, saying he was "proud this constructive relationship [with Saudi Arabia] helped secure jobs for Canadians through the largest export manufacturing contract in Canada's history."
Under pressure from critics, the Liberals have defended LAV exports on similar terms, claiming that cancelling the contract would "put the jobs of thousands of Canadians at risk, not only in southwestern Ontario but also across the entire defence industry supply chain, which includes hundreds of small and medium enterprises."
Worth an estimated $14 billion, the contract supports an estimated 3,000 jobs in London. In a city hard hit by plant closures, the jobs argument has gained traction.
Canada complicit in human rights violations
Yet Canadian complicity in Saudi violations of human rights and international humanitarian law have become too difficult for many to ignore.
Saudi Arabia has a dismal human rights record, both at home and abroad. Domestically, Saudi authorities repress dissidents, women's rights activists and independent clerics. Internationally, Saudi Arabia has since 2015 led a coalition in a military intervention in Yemen, where it seeks to prop up the government of President Abdrabbuh Mansur Hadi, engaged in armed conflict with Houthi rebel forces.
Since the Saudi-led coalition began its intervention, it has been widely condemned for serious and repeated violations of international humanitarian law, including the deliberate targeting of civilians.
Saudi airstrikes have been indiscriminate and disproportionate, killing thousands of civilians while destroying critical infrastructure, including water facilities and hospitals. In 2018, a coalition airstrike on a school bus killed 40 Yemeni children, injuring dozens more.
A child injured in a deadly Saudi-led coalition airstrike rests in a hospital in Saada, Yemen, in August 2018. The United Nations called for an investigation into the airstrike in the country's north that hit a school bus. 
To its shame, Canada has twice been named by the United Nations Group of Eminent Experts on Yemen as one of several world powers helping to perpetuate the conflict by continuing to supply weapons to Saudi Arabia.
In a September 2020 letter to Trudeau, 40 civil society organizations raised concerns about the ethical, legal, human rights and humanitarian implications of Canada's arms exports to Saudi, calling for their immediate suspension.