News
Mass demonstrations in India against Mohammed bin Salman's visit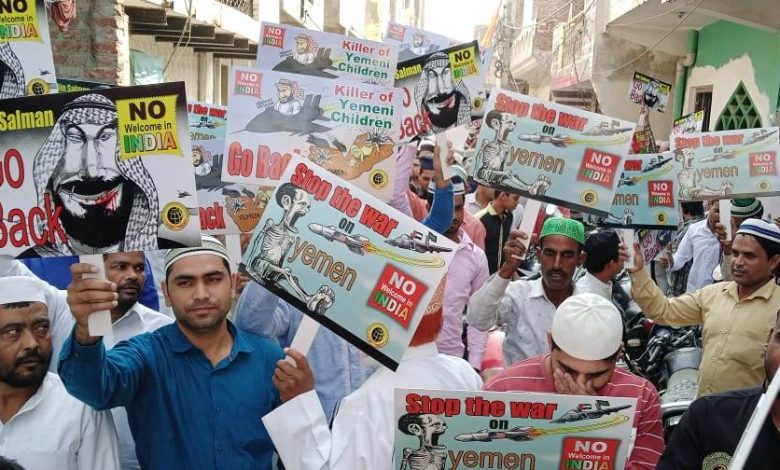 Major cities in India witnessed massive demonstrations in the last hours against the visit of Crown Prince Mohammed bin Salman to the country.
New Delhi and Bombay witnessed angry protests against Mohammed bin Salman, calling for not receiving him in India and denouncing his horrific human rights violations and crimes in Yemen.
Recent media reports have discussed the possibility of Mohammed bin Salman's visit to India after participating in the G20 summit on November 15-16 in Bali, Indonesia.
According to media reports, Mohammed bin Salman is planning to visit New Delhi to discuss deepening cooperation between India and Saudi Arabia in energy, investment and security.
The possible visit of the crown prince to India comes after an invitation extended to him by Foreign Minister Subranyam Jaishankar last month, knowing that he has a close relationship with Indian Prime Minister Narendra Modi, which helped strengthen the relationship between the two countries.
Mohammed bin Salman's public reputation in India has been at its worst on several occasions, most recently during protests against his possible visit to the country.
The demonstrators refused to welcome a man responsible for killing thousands of children in Yemen and the region, stressing that "everyone knows the true face of the Kingdom of Saudi Arabia and the Al Saud family responsible for extremism and terrorism."
Maulana Enquilab Nuri, who organized the protest in Lucknow, said the military occupation of Yemen by Saudi Arabia must end.
He added that the Saudi occupation betrayed the Yemenis and sold them, and now it is constantly exploiting the Yemeni people.
While one of the protesters said, "We are here to say no to the murderer and war criminal bin Salman."
Demonstrators called for an end to the Saudi-led military campaign in Yemen that Mohammed bin Salman launched as defence minister in 2015.
Demonstrators described Mohammed bin Salman as the world's most ruthless dictator. They criticized the Saudi-led military coalition, including the UAE, for launching "random and disproportionate" air and ground campaigns in Yemen.
They also highlighted the Saudi-led coalition imposing repeated and intermittent blockades to prevent aid and commercial goods from entering the country.
The protesters criticized the official Saudi silence on attacks by Hindu nationalist extremists on Muslim mosques and their attempt to rewrite India's history.
They considered this an abandonment by the Al Saud family of the symbolic religious status that Saudi Arabia has historically enjoyed as the land of the Two Holy Mosques and is supposed to defend Muslims worldwide.