News
Saudi Arabia's Shocking Spending on Sports Whitewashing Strategy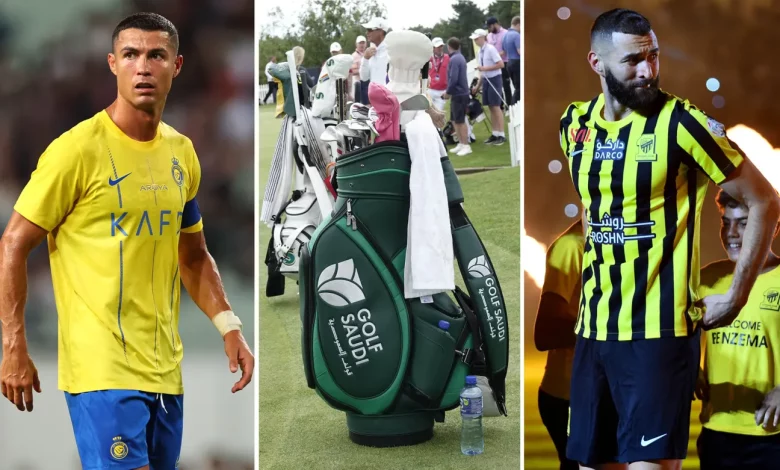 The Guardian revealed that the Saudi authorities have spent over 6 billion dollars on a "sports whitewashing" strategy since early 2021, which critics say is an attempt to divert attention from their human rights record.
According to the newspaper, the kingdom has spent at least 6.3 billion dollars on sports deals since early 2021, which is more than four times the amount spent over the previous six years.
The report highlighted Saudi Arabia's investment of billions from the Public Investment Fund in the past two and a half years, including financing sporting events like professional golf tournaments and altering the international football transfer market.
Just last Monday, Saudi's Al-Hilal club made a world-record offer to the French national team captain, Kylian Mbappe, amounting to 300 million euros (259 million pounds sterling).
The 6.3 billion dollar investment is nearly equivalent to the GDP of Montenegro or Barbados. It dwarfs the data collected by Grant Liberty two years ago, which estimated that Saudi Arabia spent 1.5 billion dollars between 2014 and early 2021.
Human rights groups, including Grant Liberty, Amnesty International, and Human Rights Watch, describe such spending as "sports washing" – funding high-profile sporting events to distract from the kingdom's abysmal human rights record.
Grant Liberty stated, "In the past, sports figures and brands refused to deal with Saudi Arabia due to its well-documented human rights abuses."
"However, there has been a worrying shift in moral stance, with lucrative deals now being accepted despite ongoing and deteriorating violations."
After the killing of journalist Jamal Khashoggi in 2018, Saudi Arabia faced widespread isolation, with many major companies withdrawing or suspending investments in the country.
However, the past two years have seen a shift in the international perception of the kingdom. Joe Biden, who once promised to make Saudi Arabia a "pariah" over the murder, traveled there last year, warmly embracing Crown Prince Mohammed bin Salman, the de facto ruler, in a controversial move.
The Guardian compiled and analyzed a list of investments made by the Public Investment Fund in Saudi Arabia – one of the world's top 10 sovereign wealth funds with assets estimated at $700 billion – and other government bodies since 2021.
The total figure of 6.3 billion dollars is likely underestimated as the Public Investment Fund is known for its financial opacity, and some deals have not been publicly disclosed.
The purchase of Newcastle United by the Public Investment Fund in October 2021 for $391 million raised concerns among human rights groups, particularly Amnesty International, which criticized the club after leaked images showed changes to its away kits to match the colours of the Saudi national team.
Felix Jakens of Amnesty International said the move "exposes the power of Saudi money and the kingdom's determination to sports-wash its blood-soaked human rights record."
Last year, the Public Investment Fund announced its intention to spend $2.3 billion on football sponsorship. This includes massive investments to acquire majority stakes in four Saudi football clubs.
The four clubs splurged to attract players worldwide, with Al-Nassr signing Portuguese star Cristiano Ronaldo for $200 million annually, making him the world's highest-paid athlete.
Following Ronaldo's signing, the team acquired other stars and coaches, including Karim Benzema from Real Madrid, N'Golo Kante from Chelsea, Roberto Firmino from Liverpool, and former Aston Villa coach Steven Gerrard.
According to reports, footballer Lionel Messi received around $25 million from Saudi Arabia's tourism agency to promote the country, including posting about luxury trips on social media.
Al-Hilal offered Messi £350 million, but he chose instead to join Inter Miami in the United States.
In February of this year, Saudi Arabia announced that it would host the 2023 FIFA Club World Cup.
The Public Investment Fund's other investments include boxing and motorsports. This year, YouTuber turned boxer Jake Paul fought Tommy Fury in Riyadh, with payouts of $3.2 million and $2 million, respectively, plus a share of pay-per-view earnings.
The kingdom also paid $60 million to host the heavyweight bout between Oleksandr Usyk and Anthony Joshua in 2022.
In 2021, the Public Investment Fund invested $550 million in sponsorship for the Bahrain-owned McLaren Group Ltd, a key part of Formula One through its race car manufacturing.
However, the 6.3 billion dollar figure does not include the $40-45 million spent annually by the state-owned oil giant Aramco on Formula 1 sponsorship or other contracts signed before 2021, such as the $65 million to host the annual Formula One Grand Prix in the kingdom.
The total also excludes the Public Investment Fund's substantial spending on the esports world, including its recent $1 billion investment in the video game company Embracer Group and sports events with undisclosed sponsorship amounts, such as the March 2021 deal for four years between the planned NEOM city on the Red Sea coast and the Asian Football Confederation.