Yemen War
Demands escalated in Yemen to end the Saudi coalition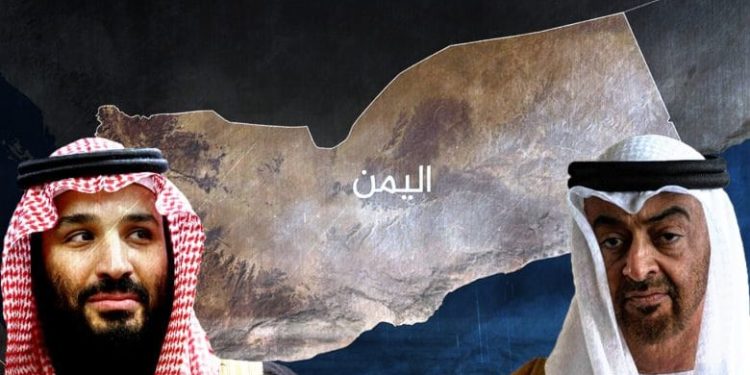 Demands escalated in Yemen of the necessity of ending the role of the military alliance led by the Saudi regime in light of its ongoing criminal war on the country for more than four years.
Thousands of tweeters participated in the hashtag "We demand it" which turned into a trend in Yemen, condemning the crimes of the Saudi coalition, spreading chaos and sabotage, as well as targeting the Yemeni national army.
The announcement by the Saudi regime of the date for the start of the launch of medical flights to transport patients from the closed airport of Sana'a by the coalition, some years ago, in conjunction with the escalation of the Houthis against the legal forces in Marib, had mixed comments, some of which went to consider That timing carries with it a message against "legitimacy", in Yemen.
Saudi's ambassador to Yemen, Muhammad Al Jaber, announced yesterday evening on his Twitter page that the first of what he described as "mercy to difficult and difficult cases", in cooperation with the World Health Organization, will be launched, starting on the third of February.
Simultaneously, the Yemeni Ministry of Foreign Affairs issued a statement announcing the start of direct flights to transport patients from Sana'a to both the Egyptian capital Cairo and the Jordanian capital Amman.
The statement said, "this humanitarian step aims to alleviate the suffering of citizens who are unable to endure the hardship of traveling by road to other airports of the Republic after the Houthi militia rejected the government's repeated initiatives to operate the Sanaa airport for domestic flights."
In December last year, the coalition announced the approval of medical flights from Sanaa airport, closed to civilian flights, since August 2016, with the exception of United Nations aircraft and relief organizations, which operate flights almost daily to transport its personnel and humanitarian aid.
Despite the welcome given by the coalition's announcement that medical flights will be allowed, in light of the suffering, the timing of the announcement sparked mixed comments by Yemeni activists on social media.
Commentators said that after the massive Houthi attack on Marib, and in light of the ambiguity of the Saudi-Emirati coalition, the announcement came as if it was "a message to the legitimate government."