Yemen War
Saudi-led coalition launches airstrikes on Yemen's capital Sanaa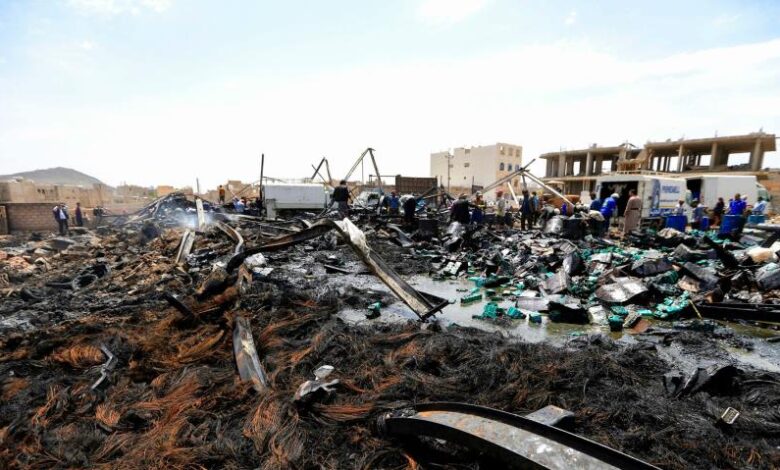 The Saudi-led coalition have bombed two sites in the Yemeni capital with strikes, a spokesman for the coalition-backed forces and residents told Reuters.
Nine rounds of aerial attacks targeted a military engineering camp in Sanaa, where high-level leaders from the Houthi movement had gathered.
Missiles also pounded the headquarters of the national security apparatus in the capital, which is controlled by the Iran-backed rebels.
There has been no immediate confirmation of the airstrikes from the Saudi-led coalition.
Direct strikes on Sanaa have been rare since September 2019, when Saudi Arabia began indirect talks with the Houthis, which it has been at war with since 2015.
The latest strikes come during a week of simmering tensions between the warring sides. On Thursday, the Houthi group claimed it had struck an "important target" in the Saudi capital Riyadh using a ballistic missile and drones.
Saudi Arabia did not confirm the attacks, but on Thursday said that two "explosive-laden" drones had been downed over the southern city of Najran.
On Tuesday, the Houthis claimed to have targeted Saudi Arabia's Abha Airport twice in less than two days, including one attack involving eight drones
Houthis have stepped up cross-border drone attacks on the Kingdom in recent months.
The group took over the Yemeni capital and most other cities in 2014 after ousting the Saudi-backed government of Abd-Rabbu Mansour Hadi.
The Western-backed coalition that Saudi leads intervened the following year to restore Hadi to power, sparking a war which has killed more than 100,000 people and displaced millions.
A blockade has devastated the country, with some 24 million Yemenis – four fifths of the population – dependent on some form of humanitarian aid.
Fighting has been protracted in the desert region of Marib over recent months, as Houthi press on seize strategic cities from coalition-backed tribal forces.
Read more: Yemen in Focus: Houthi offensive on Marib could determine country's future
Hundreds of fighters, including high-ranking commanders, have been killed in what is thought to be the largest military offensive by the group since the rebels entered the southern city of Aden.
An analyst who spoke to The New Arab last week warned of impending crisis in Marib, which is host to some 2 million internally displaced persons (IDP) who had moved their because of its relative safety in the war-torn country.
Nadwa Dawsari, Yemen expert and non-Resident Scholar at Middle East Institute, said a Houthi capture of Marid would "solidify" the group's control of the north, allowing to move even closer to the Saudi border.
"A Houthi capture of Marib will tip the military scales in favour of the rebels – if this happens, we can kiss the peace process, negotiations and any potential for sustainable peace in Yemen's future, goodbye," she added.
Agencies contributed to this report.