Saudi Plots
Investigation: 'African migrants 'left to die' in Saudi Arabia's hellish Covid detention centres'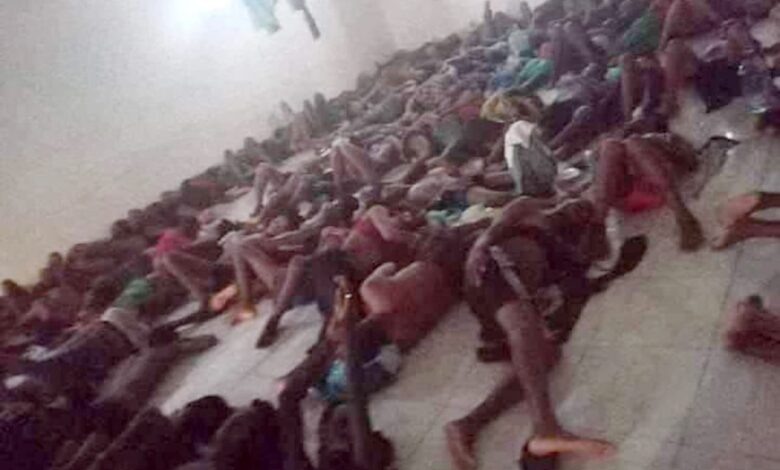 The Sunday Telegraph investigation revealed the difficult conditions of thousands of African migrants in detention camps inside Saudi Arabia.
The British newspaper compared the Saudi detention camps are reminiscent of the slave camps in Libya.
The newspaper said: "graphic mobile phone images sent to the newspaper by migrants held inside the detention centres show dozens of emaciated men crippled by the Arabian heat lying shirtless in tightly packed rows in small rooms with barred windows.
"One photo shows what appears to be a corpse swathed in a purple and white blanket in their midst. They say it is the body of a migrant who had died of heatstroke and that others are barely getting enough food and water to survive.
"Another image, too graphic to publish, shows a young African man hanged from a window grate in an internal tiled wall. The adolescent killed himself after losing hope, say his friends, many of whom have been held in detention since April.
"The migrants, several displaying scars on their backs, claim they are beaten by guards who hurl racial abuse at them. 'It's hell in here. We are treated like animals and beaten every day,' said Abebe, an Ethiopian who has been held at one of the centres for more than four months.
"'If I see that there is no escape, I will take my own life. Others have already,' he added via an intermediary who was able to communicate on a smuggled phone. 'My only crime is leaving my country in search of a better life. But they beat us with whips and electric cords as if we were murderers.'"
The Saudi authorities began detaining African migrants when the Coronavirus pandemic hit the country last March fearing that these migrants, who often reside in crowded conditions, become carriers of the virus.
Accordingly, the Saudi authorities removed approximately 3,000 migrants to Ethiopia in the first ten days of last April.
The Sunday Telegraph was able to determine the location of two centers, one in Shumaisi near Makkah, and the other in Jizan.
Many immigrants indicated that they were arrested from their homes in various Saudi cities before they were placed in detention centers.
"Photos emerging from detention centres in southern Saudi Arabia show that authorities there are subjecting Horn of Africa migrants to squalid, crowded, and dehumanising conditions with no regard for their safety or dignity," said Adam Coogle, deputy director of Human Rights Watch in the Middle East, after being shown the images by The Sunday Telegraph.
"The squalid detention centres in southern Saudi Arabia fall well short of international standards. For a wealthy country like Saudi Arabia, there's no excuse for holding migrants in such deplorable conditions," Mr Coogle added.
In June 2019, the number of foreign workers in Saudi Arabia was estimated at 6.6 million, making up about 20% of the population of the Gulf state, most of whom have low-wage and often physically difficult jobs.
According to the newspaper, there are other detention centers crowded with women, which are separate from those for men.
ImpACT International for Human Rights Policies has previously said that Caves in remote areas of Riyadh, the capital of Saudi Arabia, have become a haven for Ethiopian workers seeking to escape deportation amidst the deteriorating humanitarian and health conditions.
The London-based think tank has documented dire conditions in which dozens of Ethiopian workers are suffering while trying to escape deportation, posing a grave threat to their lives.
ImpACT International said it has viewed video clips documenting Ethiopian workers hiding in caves and desolate mountains in various areas of Riyadh, such as the Mahdia neighborhood, to be safe from Saudi police.
According to an internal United Nations memo, Saudi Arabia is expected to deport some 200,000 Ethiopian migrants.
In the past, Ethiopian workers complained of being subjected to deportation campaigns, with no consideration of their humanitarian and safety situations, in addition to having their property confiscated.
Several human rights organizations have monitored Saudi Arabia's deportation of Ethiopian migrants, most of whom are workers, since 2017, when authorities intensified deportation of undocumented migrants.
While the number of Ethiopian workers in Saudi Arabia remains unknown, it was believed that before the deportation campaign, it had reached about half a million persons, most of whom worked in low-skilled jobs with poor wages, such as construction and domestic labor. Most of those workers arrived in the kingdom via the Red Sea crossing from Djibouti to Yemen, fleeing poverty and unemployment.
Saudi Arabia remains one of few countries that has not ratified the international treaties relating to migrant detention, blurring the line between migrant detention and imprisonment. Furthermore, human rights organizations are not allowed to investigate the humanitarian conditions of migrants detained in prisons and deportation centers.
ImpACT International viewed the complaints of Ethiopian workers who were forcibly deported to their country and who reported they were subjected to ill-treatment during their detention in the Jizan region, in southern of Saudi Arabia. The workers accuse Saudi authorities of detaining and deporting minors, despite the fact that the kingdom has signed and ratified the United Nations Convention on the Rights of the Child, which states that children should not be detained due to immigration status.