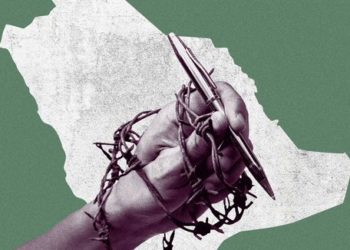 In a joint letter, 22 human rights organizations called on the Saudi authorities to unconditionally release a female detainee, an social media activist Lina Al-Sharif.
In their letter, the organizations said that Al-Sharif was arbitrarily detained for more than a year for her social media activism. On May 11, 2022, Al-Sharif spent her 34th birthday in Al-Ha'ir Prison in Riyadh, Saudi Arabia.
The organization stated that the activist is a doctor from Riyadh. In late May 2021, members of the State Security in the Kingdom raided her family's home, arrested her and forcibly disappeared her for two months, until July 26, 2021, and put her in Al-Ha'ir prison.
Prior to her arrest, Dr Al-Sharif was an activist on social media, discussing Saudi politics and advocating human rights in Saudi Arabia, including women's rights, freedom of belief, freedom of expression, and freedom of conscience for detainees.
On July 9, 2021, MENA Rights Group sent an urgent appeal to the United Nations Working Group on Enforced or Involuntary Disappearances, urging the Saudi authorities to reveal her whereabouts.
On September 21, 2021, the Saudi authorities responded to the request for clarification submitted by the Working Group on Enforced or Involuntary Disappearances.
The Saudi authorities claimed that Dr Al-Sharif violated Saudi laws by exercising her right to freedom of expression and was arrested based on Articles 2 and 19 of the Law on Combating Terrorism Crimes and Financing.
However, the government did not provide the team with more information about the accusations against Dr Sharif, and her case is still under investigation.
According to human rights organizations, the Saudi authorities systematically enforced disappearances of people exercising their right to expression.
In addition, the Saudi authorities do not respect the right to due process and do not guarantee the right to a fair trial, as they detain people for long periods without charges or before trial.
Human rights organizations confirmed that the case of Al-Sharif is a clear example of a series of systematic violations of human rights in the Kingdom of Saudi Arabia.
Dr Sharif's extended pre-trial detention without charges against her is very concerning. In addition, the detained activist did not obtain her right to due processes of law, such as a fair trial and legal representation.
"We are also very concerned about the safety of Dr Al-Sharif is psychologically and physically in Al-Ha'ir prison, as she did not receive the care required by her health condition. Nor can independent monitors visit her to verify the conditions of her detention," the organizations said.
The human rights organizations concluded their letter by urging the Saudi authorities to respond to this call by releasing Dr Sharif and all those detained for exercising their rights of expression, including Internet activists and human rights defenders.