Saud House Crimes
Saudi Leaks reveals the reality about executing three Saudi soldiers accused of treason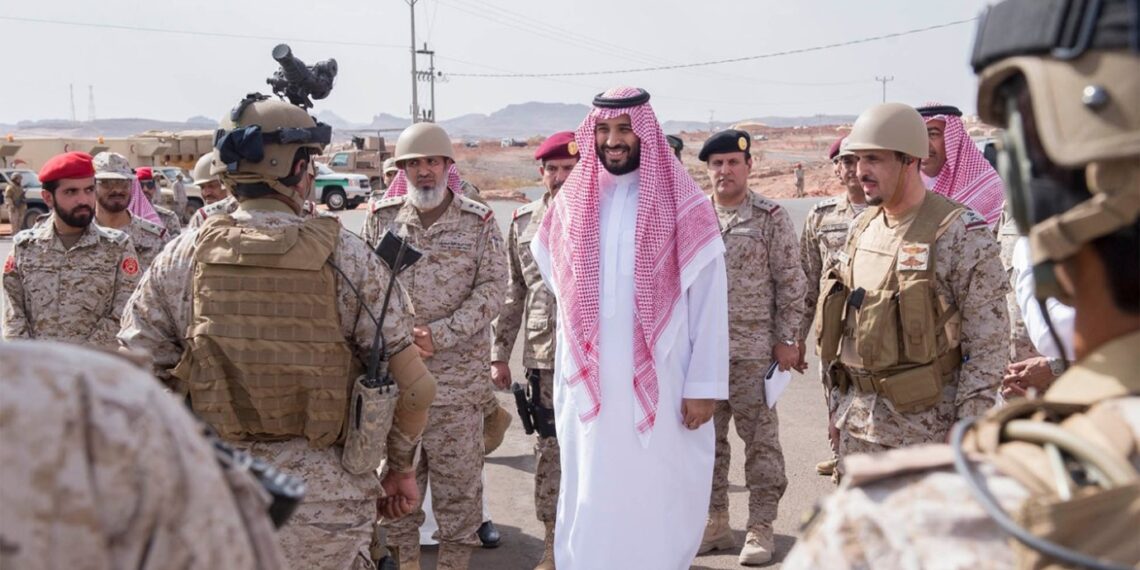 The Saudi Ministry of Defense executed three Saudi soldiers after being found guilty of participating in an attempted military coup against Crown Prince Mohammed bin Salman.
Military sources told Saudi Leaks that the Ministry of Defense carried out the death sentence by firing bullets at the three soldiers in front of a large gathering of commanders and soldiers.
The sources emphasized that the death sentence's execution came after the three soldiers were convicted of assisting the Al Saud family's leaders and princes in attempting to overthrow bin Salman.
In a statement, the Saudi Ministry of Defense stated that three soldiers would be executed after being convicted of "high treason and cooperating with the enemy."
The ministry did not provide further details about the three soldiers. While bin Salman leads the Ministry of Defense along with the mandate of the Covenant.
Saudi opposition Saad Al-Faqih unveiled bin Salman's help with foreign mercenaries to protect him from falling, fearing a military coup.
Al-Faqih said in a video clip that bin Salman fears a military coup or the return of Prince Muhammad bin Nayef or Prince Ahmed bin Abdulaziz.
According to the information received, bin Salman is fortified with foreign mercenaries and does not trust the nation's people's capabilities and protection.
He added that the Royal National Guard is only a cosmetic protector of the crown prince.
The Al Saud family in power in the Kingdom has a long history of political and military coups and a long series of internal struggles over power and influence.
The Al Saud family's history goes back to the eighteenth century when Muhammad bin Saud in 1745 strengthened his rule with alliances in the region. Despite their defeats in battles here and there, the family once again took control of Riyadh. Then problems arose within the family over the succession.
In 1902, King Abdulaziz expelled the rival Rashidy tribe and gradually consolidated the foundations of his rule across the Arabian Peninsula with the power of the sword. In 1913 he took control of the Gulf Coast in the east, and in 1925 he took command of Mecca and Medina in the west.
In 1932 Abdulaziz founded the Kingdom of Saudi Arabia, which he became its king.
To consolidate the foundations of his rule, King Abdul Aziz marries the daughters of the tribal sheikhs and had 45 sons.
The other milestone year in the Kingdom's history was the year 1938, in which oil was discovered, making Saudi Arabia one of the world's wealthiest countries.
King Abdulaziz died in November 1953 and was succeeded by his son Saud, whose father appointed him crown prince.
Saud was accused of mismanagement and was removed from office in 1964 by the Council of Principal Princes in the family, and was succeeded by his half-brother Faisal.
King Faisal was the architect of Saudi Arabia's transition to the era of modernity, except that he was killed in 1975 by one of his nephews, who was said at the time to be defective.
King Faisal was succeeded by his brother, King Khalid, who ruled until 1982, and then King Fahd. The latter assumed power until he died in 2005 when King Abdullah succeeded him and formed a series of coups witnessed by the Al Saud family during the past centuries. Saudi Leaks counted 15 political and military coups in the Kingdom.
1- In 1834, Mishari bin Abdul Rahman Al Saud assassinated his maternal uncle Turki bin Abdullah.
2- In the same year, 1834, Faisal bin Turki sent Prince Abdullah bin Ali to kill Mishari bin Abdul Rahman.
3- In 1837, Khalid bin Saud al-Kabir expels Faisal bin Turki to support a Turkish and Egyptian garrison.
4- In 1841, Abdullah bin Thanayan seized power after a war with Khalid bin Saud.
5- In 1843, Faisal bin Turki regains power from Abdullah bin Thunayan with the Egyptians' help.
6- In 1865, the skirmishes' beginning broke out between Abdullah and Saud (my son Faisal bin Turki).
7- In 1871, a major battle occurred between the sons of Faisal bin Turki in Al-Ahsa.
8- In 1872, Abdullah bin Faisal sent his brother Saud to meet him in Dalam.
9- In 1873, Saud enters the capital, Riyadh, and Abdullah flees for Sabiha near Kuwait.
10- In 1875, Abdullah bin Faisal sends his brother Muhammad to fight their other brother, Abd al-Rahman.
11- In 1876, a dispute occurred in Riyadh between Abd al-Rahman bin Faisal and his brother Saud's sons.
12- In 1886, the sons of Saud bin Faisal invaded Riyadh and arrested their uncle Abdullah.
13 – 1964 witnesses the coup of Faisal bin Abdul Aziz and his brothers against King Saud.
14- In 1975, Faisal bin Musaed assassinated his uncle, King Faisal.
15- In 2017, Mohammed bin Salman took out a coup against his cousin, Muhammad bin Nayef, and his cousins' arrest and the seizure of their money.