News
Saudi Scandals
Demonstrations and public criticism spoil the joy of the Saudi acquisition of Newcastle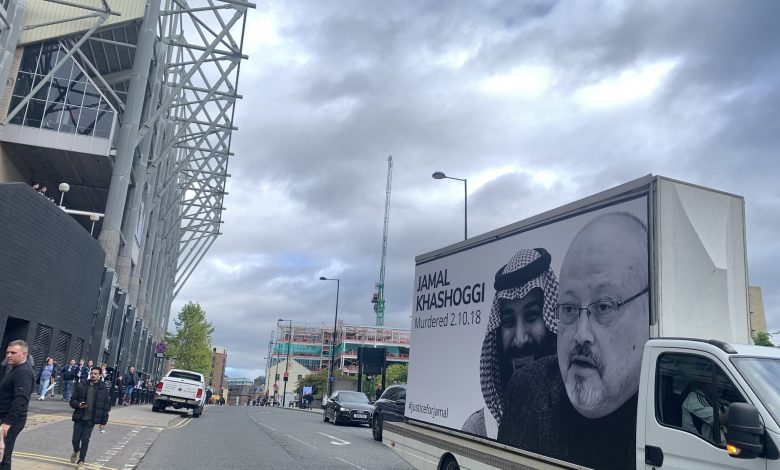 The first initiative of the English club Newcastle, after its acquisition by the Saudi Public Investment Fund, witnessed public demonstrations and criticism focused on the black human rights record of the Kingdom.
Human rights activists denounced the crimes of Crown Prince Mohammed bin Salman, foremost of which was the killing of journalist Jamal Khashoggi before the first Newcastle match after its acquisition by the Saudi Investment Fund, which took place yesterday.
They organized portable demonstrations reminiscent of the Khashoggi murder. They gathered in the vicinity of the Newcastle-Tottenham United match stadium to protest against allowing the Saudi regime to whitewash its violations by investing in sports.
This comes as Liverpool coach Jurgen Klopp criticized the Premier League's failure to address human rights concerns in Saudi Arabia, the new owner of Newcastle FC.
Klopp said he expected Premier League chief executive Richard Masters to speak publicly about selling the club to the Saudi Public Investment Fund and his British partners Amanda Staveley and Jimmy Robben.
On the other hand, Saudi Arabia is condemned for its human rights record. Still, Newcastle and the Premier League claim that the Public Investment Fund is independent of the Kingdom's rulers. But that didn't seem to convince Jurgen Klopp.
The Liverpool boss said: "I was waiting for some official statement on the matter, like one from Richard Masters or someone else. We all know there are some concerns about human rights issues. That's clear, and we all see the same thing there."
He continued: "What will [the acquisition] mean for football? A few months ago, we had a big argument with 12 clubs trying to build the Super League."
As Klopp noted: "No one knows exactly if FFP still exists today. Newcastle fans will love it, but for the rest of us, it just means there is a new superpower in Newcastle."
"We cannot avoid that. Money can't buy everything, but over time they will have enough money to make some wrong decisions, correct them, and then get to where they want to be in the long run."
This comes as Newcastle United fell at home and among its fans, 2-3 against its guest Tottenham Hotspur in the eighth round of the English Premier League, in the team's first match after the Saudi Public Investment Fund acquired the club.
Newcastle, the owner, remained without a win this season, after losing the match that was held at St James' Park to occupy the penultimate position in the English Premier League table.