News
Israeli media: Saudi Arabia and Israel racing for normalization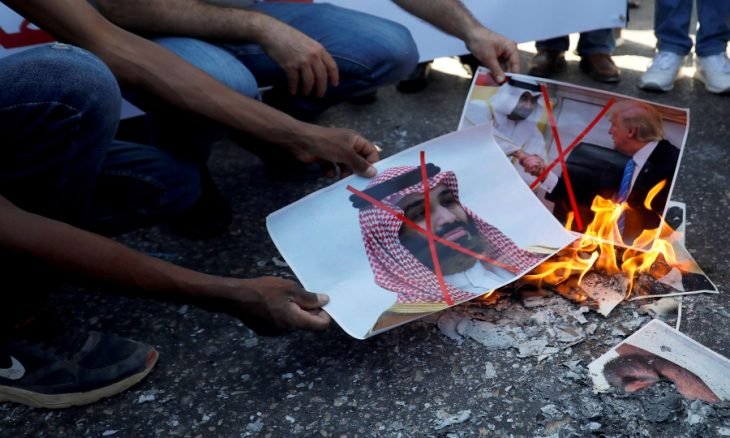 Israeli media confirmed that Saudi Arabia and Israel are racing against time to achieve normalization ahead of US President Joe Biden's visit to the region in the middle of next month.
Yedioth Ahronoth newspaper reported that preparations for Biden's visit are gaining momentum, and it is expected that the final schedule of the visit will be closed in the coming days.
According to the newspaper, at the beginning of next month, the preliminary American team will arrive in Israel to finalize all the visit details.
It explained that against the background of the visit, a race against time is taking place behind the scenes in an attempt to reach normalization agreements with Saudi Arabia to resolve the matter even before Biden arrives in the Middle East.
Efforts with Saudi Arabia include the entire "Israeli system," from the Israeli army to the Mossad, the National Security Council and the Foreign Ministry.
According to the newspaper, Israel believes there is an opportunity to reach agreements with Riyadh on small and medium steps of normalization, such as allowing "Israeli flights" to pass through the kingdom's airspace and allowing Arab-Israeli pilgrims to travel to the kingdom by air.
The Americans also push for a Saudi agreement to integrate Israel into a regional defence alliance. Defense Minister Benny Gantz recently revealed that the regional air defence system established in the Middle East thwarted Iranian attempts to attack Tel Aviv and other countries.
It is reported that Biden will take off on July 15 from "Ben Gurion Airport" to Jeddah, Saudi Arabia, for a two-day visit.
CNN has previously highlighted the implications of Biden's scheduled trip from Israel to Saudi Arabia next month amid expectations to advance normalization efforts between the Kingdom and Tel Aviv.
The network stated that "Biden's plane will fly directly from Israel to Jeddah, which is in itself a sign of improving relations between Saudi Arabia and Israel, in a region where the direct travel ban was an extension of the deep hostility between Tel Aviv and the Arabs."
The network indicated that Biden's meetings in Saudi Arabia would be held in Jeddah, not Riyadh's capital. This can be considered a symbolic reduction of an official state visit, as the last US president to visit Jeddah was George Bush Sr. in 1990.
Through his scheduled visit to the kingdom, Biden is betting that he will gain more than he loses, even as human rights activists accuse him of sacrificing his principles for the sake of oil.
Biden joins American presidents who have all sought to woo the oil-rich kingdom over eight decades in time, which has persevered in efforts to build good relations in Washington despite recurring crises, including the 9/11 attacks. Most of its perpetrators are Saudis.
The White House announced Tuesday that Biden would travel next month to attend a regional summit in Jeddah and meet Saudi leaders – whom he promised when he was a candidate to treat them as "outcasts" – including Crown Prince Mohammed bin Salman.
Upon taking office, Biden declassified the findings in the Khashoggi murder case and promised to "recalibrate" the relationship by reducing support for the devastating Saudi-led air campaign in Yemen.
Administration officials say they have finally seen the Saudis respond to US concerns — including by backing a shaky truce in Yemen where the Riyadh-backed government is battling the Iran-linked Houthi rebels — and take the first steps to improve relations with Washington's ally Israel.
In a surprising situation, earlier this month, the Saudis directed oil producers to increase production, which was a relief to Biden after his popularity waned due to high fuel prices, which continued to rise.
Dan Shapiro, who served as ambassador to Israel when Biden was vice president, said the 36-year-old crown prince is likely to be the central figure who will lead Saudi Arabia for years to come.
Biden's visit comes when China is increasingly looking to the Gulf Arab states, most of which have not responded to US efforts to isolate Russia over its invasion of Ukraine.
"President Biden has correctly concluded that the United States will best serve its strategic interests by stabilizing the US-Saudi relationship," said Shapiro, who is now at the Atlantic Council.
"It is critical, as we deal with challenges such as Russia's invasion of Ukraine and China's increasingly global consolidation, that partners – particularly in the Middle East, and especially energy-producing countries – side with the interests of the United States," he added.
The trip expresses the White House's position that it is worth bearing the criticism of lawmakers, mostly from his Democratic Party and activists. They say he is breaking his promise to make human rights at the centre of his foreign policy.
Biden last week witnessed how the president of Mexico boycotted the Summit of the Americas in Los Angeles to exclude leaders from countries that Washington considers undemocratic.
Andrea Prasow, executive director of the Freedom Initiative, which supports political prisoners in the Arab world, said families of detainees feel Biden has "absolutely abandoned them in favour of low oil prices."
She held that Biden should have sought commitments from Mohammed bin Salman, such as releasing prisoners, in exchange for his visit.
MBS had a more cordial relationship with former President Donald Trump, whose son-in-law Jared Kushner was said to have been speaking with the prince via WhatsApp.
The former president defended his lenient response to the Khashoggi murder by saying that Saudi Arabia had boosted the US economy by purchasing weapons.
Trump's Secretary of State, Mike Pompeo, tweeted that MBS is "working to build peace and prosperity for his country" and criticized Biden for marginalizing him.
Experts said that the Crown Prince is looking forward to returning relations to their previous era, which is still unlikely.