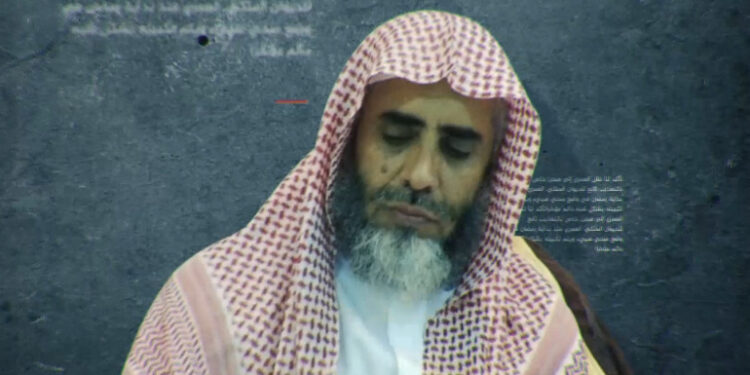 Within the framework of gross violations of human rights, the Saudi regime uses solitary confinement as a punitive tool to take revenge form prisoners of conscience and cut off any connection they might have with the outside world.
Human rights sources revealed that connection with Awad Al-Qarni, prominent Saudi preacher, who has been detained since 2017, have been lost since the first weeks of Ramadan, that is, more than a month ago.
"Prisoners of Conscience" page on Twitter stated that Al-Qarni sounded tired in his last call. Moreover, since then, he had not yet call periodically nor did he call on Eid Al-Fitr.
Al-Qarni has been arbitrarily detained since September 10, 2019, without any legal justifications. "The false charges against him are because of moderate stance and refusal to attack Qatar when the Gulf crisis out broke in June 2017," the Prisoners of Conscience said.
Human rights sources have previously warned of the deteriorating health situation of the Saudi preacher, who was seen in one of his trial sessions on a wheelchair at the end of last year, after spending more than two months in the hospital.
The Public Prosecution Office in the specialized criminal court in Saudi Arabia demanded what it called "the discretionary killing" of Al-Qarni, Salman Al-Awda, and Ali Al-Omari.
Al-Qarni was known to call for ending corruption in his country and raising the ceiling of political freedom. The Saudi media described him as the head of the Muslim Brotherhood in the country.
Al-Qarni has published many books on legislation and contemporary issues such as controversy, modernity, advocacy, and others.
Dozens of prisoners of conscience remain in solitary confinement in prisons, for months, some of them for years, without even a fair trial.
The Saudi regime intentionally tortures detainees, especially prisoners of conscience, places them in solitary confinement, and exposes them to physical and psychological torture, while depriving their families of any information about them, the charges against them, or even the place of their arrest, not mentioning the ability to visit them.
Extensive campaigns of arrests targeted human rights defenders who defend the rights of women and demand to overthrow the guardianship system, ceasing human rights violations, reform the government system, and enforcing human rights principles.
In spite of international human rights organizations repeated demands to respect human rights, the Saudi authorities are still committing violations. It appears that the reign of King Salman and his son has been the worst with regard to the human rights violation, despite the attempts to promote social reforms that have no goal but to improve the Kingdom's bad reputation.
Amnesty International recently said that "Human rights activists in Saudi Arabia are an endangered species. One by one they are vanishing – prosecuted, jailed, intimidated into silence or forced into exile."