Others
Saudi officials admit: Biden intentionally insulted Mohammed bin Salman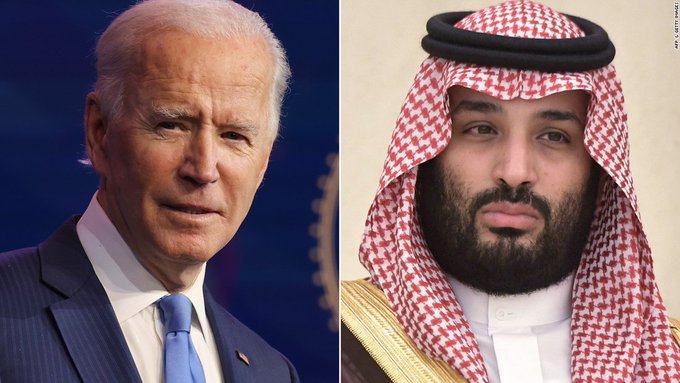 Reuters quoted Saudi officials admitting that US President Joe Biden deliberately insulted Mohammed bin Salman in public before his upcoming visit to the kingdom and that he could meet the Crown Prince for the first time.
The agency stated that Biden is turning his attention this month to a sensitive trip to the Middle East that will test his ability to reset relations with Mohammed bin Salman, who has previously been criticized by the US president and described as a pariah.
Biden has not yet indicated whether he will hold face-to-face talks with the crown prince, the de facto leader of Saudi Arabia, who US intelligence has concluded was behind the killing of political dissident Jamal Khashoggi, who was writing for the Washington Post.
Despite expectations that Biden will meet with Saudi King Salman and the crown prince while in the kingdom, the US president says that his visit to Jeddah aims to participate in a summit of Gulf states.
"It (the summit) is in Saudi Arabia, but it is not about Saudi Arabia," Biden said. In an interview with reporters during the NATO summit in Madrid last Thursday, he said, "So nothing was committed or, I am not even sure about that, I think I will meet with the king and the crown prince, but this is not the meeting for which I will go. They will be part of a much bigger meeting."
A source familiar with the matter said Biden's lack of clarity raised some concern among Saudi officials who support the crown prince and see the president's comments as insulting.
The source added, "Every time he says 'I won't meet him, this causes problems… You can't ask them for a favour and keep denying even meeting them."
Biden had criticized bin Salman, calling him a "pariah" over Khashoggi's killing. And he announced at the beginning of his presidency that he would focus American relations on King Salman and not his son.
But faced with many other problems related to Russia's invasion of Ukraine, Biden's aides persuaded him to embark on a thaw.
Biden needs the help of oil-rich Saudi Arabia when gasoline prices are rising and while encouraging efforts to end the war in Yemen after the Saudis recently extended a ceasefire there.
The United States also places curbing Iran's influence in the Middle East and China's global influence among its priorities.
A US official said Biden initially opposed the Saudi visit, seeing it as a boost to Mohammed bin Salman and inconsistent with his condemnation of the kingdom's human rights record.
The official, who spoke anonymously, added that the president pondered the issue over and over for weeks before aides convinced him that high oil prices and the regional threat posed by Iran made the trip necessary.
Israel also encouraged his latest decision, hoping that Biden's visit to the kingdom would ensure Saudi support for Israeli-Arab rapprochement.
Biden noted in Madrid that the Israelis "strongly supported my going to Saudi Arabia."
Biden will visit Israel first on his July 13-16 trip.
The US president has tried to balance appeasing those who support strategic improvement in relations with human rights advocates who say the visit runs counter to his pledge to place human rights at the centre of US foreign policy.
Four veteran Democratic senators — Jeff Merkley, Patrick Leahy, Ron Wyden and Richard Blumenthal — wrote to Biden urging him to use the trip to focus talks on regional human rights concerns.
"For far too long, we have allowed the exigencies of geopolitics to dictate our policies toward the kingdom," they wrote in the letter.
John Alterman, director of the Middle East program at the Center for Strategic and International Studies, said Biden's trip was necessary to reset relations with a key ally, but "politically, there is no upside for the president."
Biden is expected to use his talks with the Saudis to persuade Riyadh to conduct security and diplomatic contacts with Israel as part of efforts to strengthen the regional alliance against Iran.
However, the source stressed that while the US administration expects to progress during Biden's visit, the normalization of relations between the kingdom and Israel is still a long way off.
Saudi Arabia indicated its support for the Ibrahim agreements, according to which the UAE and Bahrain normalized relations with Israel about two years ago, but Riyadh did not reach the point of recognizing Israel.
People familiar with Biden's position expect the US president to address human rights when he visits Saudi Arabia, but it is unclear in what framework this will take place.
"I have great confidence that human rights will be on the agenda and an issue in every meeting," said a former senior Biden administration official. He's not the one who's running away from something."