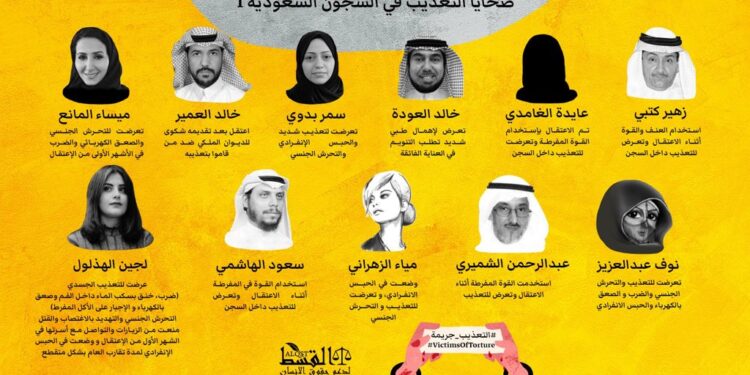 Human rights activists launched a campaign on the social media sites under the slogan "#التعذيب_جريمة " (Torture Is a Crime) to denounce the Saudi authorities' violations against prisoners of conscience and political opponents. The campaign coincided with International Day in Support of Victims of Torture.
ALQAST, an independent Saudi human rights foundation, confirmed that the Saudi authorities practiced torture in its prisons and interrogation rooms in a systematic manner despite all the pledges to stop torture.
The foundation said in a press statement that the Saudi authorities have expanded the use of torture significantly since King Salman took office, and his son Muhammad bin Salman became the Crown Prince.
In its last annual report, ALQAST mentioned the names of some of the activists who were tortured, among them the prominent human rights defender, Dr. Abdullah Al-Hamid, who lost his life due to the torture.
The report mentioned forms of torture, such as electric shock, suspension, sleep deprivation, sexual harassment, exposure to cold temperature in addition to psychological torture such as threats of killing relatives or telling a detainee misleading information such as the death of member of their family.
The Saudi authorities did not open any investigation nor did it allow any human rights organizations or special rapporteurs of the Human Rights Council to visit prisons, while the Saudi courts continue to accept confessions extracted under torture.
The UN Special Rapporteur on the promotion and protection of human rights, after his visit to Saudi Arabia in 2017, stated that: "The Kingdom of Saudi Arabia does not provide the minimum procedural guarantees during detention and interrogation, and its judicial practice of accepting coerced confessions as evidence, strongly indicates that it is a formally approved practice."
He pointed out that the existence of 3,000 complaints registered with regard to torture, and there was no response to any case in which the accused official was tried showing the extent of impunity for government officials involved in torture.
The ALQAST foundation called for holding the Saudi authorities fully responsible for the ongoing torture and all its results and not implementing the reform promises they made. The foundation also called for pressuring the Saudi authorities to stop and prohibit such practices, provide mechanisms for victims to restore their rights, and guarantee that perpetrators of these violations are held accountable.