News
Responsible Statecraft: MBS can't escape Khashoggi case with sudden "prime minister"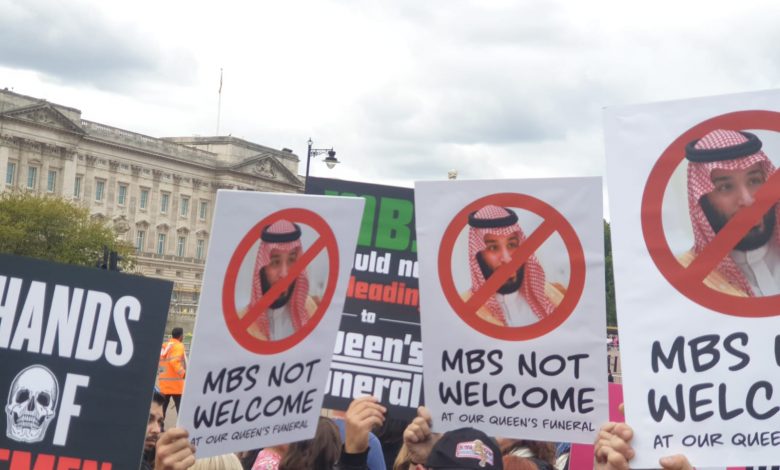 Responsible Statecraft said that the Crown Prince Mohamed bin Salman, or MBS, arranged a royal proclamation naming him "prime minister" last week to avoid accountability in the legal action pending against him in the United States for the 2018 kidnap, torture, death, and dismemberment of Washington Post journalist Jamal Khashoggi.
Attempting to dodge punishment by obtaining "head of government" status based on this bogus title would be a horrible idea. It would not only thwart efforts to hold him civilly accountable, at the very least, for his numerous misdeeds, but it would also create a terrible precedent for powerful criminals to dodge legal culpability for the gravest atrocities by copycat title-washing operations.
There is hardly a shred of doubt that MBS's appointment as prime minister, an aberration of Saudi law or custom, is to obtain immunity from the lawsuit and two other civil lawsuits ongoing against him for significant offences. The ink on the "royal proclamation" appointing MBS as prime minister had not dry when, just three days later, on October 3, his attorneys asked the court in the Khashoggi lawsuit to acknowledge his immunity.
Under Saudi law, the King holds the position of prime minister, which is a worthless honorific under an absolute monarchy, even in normal circumstances. The order designating MBS as the prime minister said it was a temporary and conditional exemption to the law, valid only while the King is absent from cabinet sessions and for as long as MBS is the crown prince. The edict makes no effort to amend Saudi legislation to grant formal new powers to any crown prince, and it is quite unlikely that MBS if he becomes King, would allow anyone else as head of government, which is why this is an exception for him alone.
Saudi Arabia waited two years after the Khashoggi case was filed before resorting to this move largely because of its interminably antagonistic ties with the Biden administration. MBS urged the Trump administration and the Biden administration to grant him protection from the several lawsuits he faced, but the State Department resisted vehemently throughout both governments. On the merits, there would have been no reason to claim that MBS, in his capacity as crown prince, should be granted head-of-state protection. MBS continued in his demands, allegedly refusing to take a call from Biden and agreeing to raise oil output unless Biden offered him protection from prosecution (as well as a formal security guarantee from the U.S.).
When U.S. federal District Court Judge John Bates, who is hearing the Khashoggi lawsuit, asked the State Department to weigh in on the matter on July 1 — on the eve of Biden's fist-bump reconciliation with MBS in Riyadh — all the State Department could do was a punt and asked for an extension until October 3. As the new deadline drew near, the Saudis issued a royal proclamation naming MBS as prime minister. A few days later, on October 5, Saudi Arabia declared its intention to reduce OPEC Plus oil production by two million barrels per day – a pretty evident smack in the face for Biden, who had not yet provided amnesty or the needed security assurances. According to White House talking lines, the Saudi action was a "complete disaster" and a "hostile act."
Longstanding precedent in U.S. law, based on customary international law, recognizes the "troika" of a country's head of state, head of government, and foreign minister as free from prosecution or action. This immunity aims to guarantee that foreign nations may maintain functional connections and that heads of state can do their obligations without fear of being sued or persecuted. When the crimes committed are especially heinous. However, there have been increasing challenges to such total immunity, and international tribunals routinely deny any status-based protection.
For instance, the International Criminal Court and other international courts authorize the prosecution of current and previous leaders of the state. Extensive U.S. legislation also binds heads of state to fines and other consequences when they break international rules against corruption or human rights, so rejecting their protection. In the end, "for immunity determination, head of state immunity attaches only to those people whom the U.S. executive branch acknowledges as lawfully having such status." (Italics added.)
MBS's fraudulent scheme to elude the jurisdiction of U.S. courts in the three civil lawsuits filed against him for genuinely horrific crimes ought to be considerably simpler to refute from any immunity claim. Moreover, in contrast to the United Kingdom, where the prime minister is obviously the head of government, in Saudi Arabia, an absolute monarchy, King Salman controls all levers of power, and MBS is his subordinate.
It should not be difficult to reject fake titles granted for the primary and only purpose of avoiding litigation. MBS's ability to carry out his tasks as a crown prince or even as "prime minister" is unaffected by the civil lawsuits he faces. A civil case bears no chance of arrest; it is ultimately a demand for financial penalties, which a defendant may settle if the cost of defence is too severe, for instance.
Significantly, granting immunity based on false titles issued only to avoid a lawsuit would allow similarly situated warlords, Mafiosi, and drug lords to assign themselves or purchase presidential or ministerial positions. Why stop at just one? It is not difficult to picture a dozen presidents and prime ministers having the same title for life because they share the position of head of government. Global universal jurisdiction legislation, notably the U.S. Alien Tort Claims Act and Torture Victims Protection Act, are meant to allow U.S. litigants to sue foreign authorities who have committed grave abuses. Legitimizing phoney immunity ploys will soon undermine these laws.
The wisest course of action for the Biden administration is to deny the protection MBS has petulantly wanted for the past two years, or at the very least, to stay out of the issue totally.
It is bad enough that President Biden has broken his promises to hold Saudi Arabia accountable for the murder of Jamal Khashoggi; it would be even worse if he ensures MBS's total impunity for it, undermining both American and international laws that provide the only means of punishing the worst human rights violators on the planet.