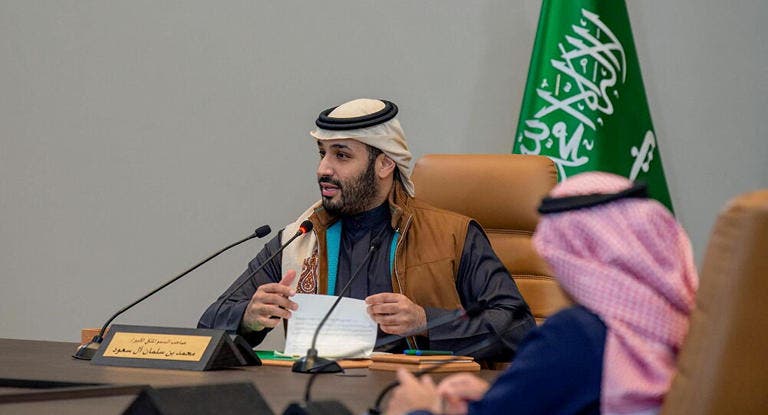 Since he came to power in 2017, Crown Prince Mohammed bin Salman has turned the Kingdom into a private company to achieve his personal goals and ambitions.
Bin Salman focused on raising funds without considering the Kingdom's economic and regional standing caused disastrous effects on the living standards in the Kingdom.
Following is how Mohammed bin Salman turned the Kingdom into a private company:
1- The state turns into a private company whose main concern is to collect profits regardless of the interests of citizens.
2- Transforming the citizen into a customer through the new tax system.
3- Converting service institutions into profit companies.
4- Turning military institutions into security companies that protect his interests only.
5- Turning the security institutions into his own piracy companies.
6- Transforming the Public Investment Fund into a personal portfolio to dispose of according to his interests.
7- Seizing the nation's wealth and taking it as a family inheritance.
8- Turning government officials into representatives of his own company.
Bin Salman did not care about the Kingdom's economic losses, so he resorted to the wrong alternatives to change Saudi's dependence on oil through a series of fateful decisions.
He imposed taxes, raised the cost of foreign labour, compromised the sovereign wealth fund, prevented political reform and its impact on the economy, and made available shares in Aramco Investment Company.
In order for the reckless ruler to realize his illusory dreams, he pursues two paths to achieve his dream of "Vision 2030" and to build the smart city of NEOM on Saudi lands, unconcerned with his country's economy, which is taking an unprecedented path towards the abyss.
Bin Salman, who is facing global and international criticism, is following the path of displacing the Al-Huwaitat tribe, arresting and killing its members to force them to leave their lands in favour of NEOM.
In return, he pays millions of dollars outside the Kingdom to promote his city, which is facing many crises.
On June 10, 2020, the Crown Prince hired one of the largest public relations firms in the world to improve his criminal image and promote his $500-billion city.
The Foreign Policy reported that NEOM signed a $1.7 million contract with Ruder Finn to promote the city's social responsibility efforts.
Ruder Finn Kathy Bloomgarden is a woman-led company with dual headquarters in New York and Beijing and is among the world's largest private telecommunications companies.
Ruder Finn expects to locate two or three employees in the Kingdom for the project "with the support of teams" from its US and Asian offices.
Its work will include developing a website and social media strategy for NEOM, including assisting with social media campaigns "related to promoting NEOM as the city of the future."
The Foreign Policy stated that the work might also include attempts "to influence members of the US public or US government officials in connection with the NEOM project."