Saud House Crimes
Mohammed bin Salman to pay billions for huge military deals with Israel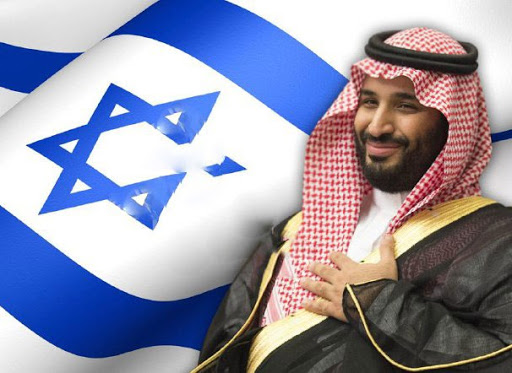 Diplomatic sources revealed to Saudi Leaks that Crown Prince Mohammed bin Salman is preparing billions for huge military deals with Israel to promote normalization.
The sources stated that bin Salman allocated a huge additional budget for military imports from Israel and showed more goodwill towards it.
The official Israeli TV channel Kan reported that Tel Aviv would try to push for a massive arms deal with Saudi Arabia during US President Joe Biden's visit to the region in mid-July.
The channel stated that Israel would ask the US administration during Biden's visit to mediate with Saudi Arabia to complete the deal.
It explained that Israel would offer Saudi Arabia to purchase many weapons, including air defence systems.
It added that Israel would take advantage of Biden's visit to a number of its military bases, including the air base in Balmachim in the Negev, and his meeting with Defense Minister Benny Gantz, Chief of Staff Aviv Kohavi, and several military leaders to put forward the idea of ​​reaching an arms deal with Saudi Arabia.
The channel indicated that the impact of the deal would be economically significant, pointing out that the idea of ​​reaching a deal with Saudi Arabia comes in light of the intensification of the confrontation between Israel and Iran.
The channel's report indicates that Israel is interested in exploiting the United States' promotion of ​​installing radar systems in the region, claiming to confront the threat of Iranian missiles and drones, which the Wall Street Journal indicated a month ago, in an attempt to reach huge arms deals with the countries of the region.
Since Israel has previously publicly opposed Saudi Arabia and other Arab countries' acquisition of advanced American weapons, it can be assumed that it will not rush to sell Riyadh offensive or defensive weaponry.
The Wall Street Journal reported on Sunday that the United States held a secret meeting between Israeli and Arab military leaders in the Egyptian city of Sharm el-Sheikh to discuss confronting the Iranian air threat.
According to the newspaper, American and regional officials said the meeting included high-ranking military officials from Israel, Saudi Arabia, Qatar, Egypt and Jordan and discussed possible military cooperation against Iranian missile capabilities and drones.
The meeting included Chief of Staff of the occupation army Aviv Kohavi, Chief of the Saudi General Staff Fayyad bin Hamed Al-Ruwaili, Chief of Staff of the Qatari Armed Forces Salem bin Hamad Al-Nabit, and senior leaders from Jordan, Egypt and Bahrain, while the UAE sent a lower-ranking officer.
Participants in the meeting agreed on rapid notification when Iranian air threats are detected. As the US military does, phone or computer notifications will be sent when the threat is detected, without sharing high-speed digital data.
According to the newspaper, these understandings will not be binding, but the next step is to secure support for political leaders to legalize notification arrangements and expand cooperation.
This meeting followed secret discussions in low-level working groups between representatives of a number of these countries to discuss hypothetical scenarios on how to cooperate in discovering air threats.
The newspaper mentioned that military cooperation between Israel and Arab countries was impossible for decades. Still, several variables, most notably the normalization agreements signed between a number of Arab countries and Israel, facilitated this.
It also pointed out another factor that pushes Arab countries to expand military cooperation with Israel, which is related to the desire of these countries to acquire Israeli air defence technology and other weapons.
Despite this, the newspaper says, this military cooperation still has a long way to go, in addition to its diplomatic sensitivity.