Saudi Plots
Everything is prohibited except for entertainment in Saudi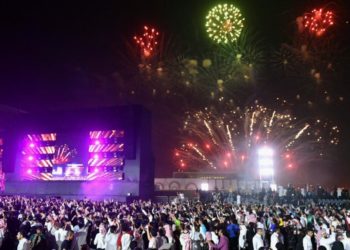 Anger prevails among the Kingdom after the Saudi authorities took a series of measures to freeze public life, claiming precautionary measures to spread the coronavirus at a time when entertainment activities continue to spread corruption and decay.
The measures taken included suspension of religious lessons, workshops for memorizing the Qur'an in the Kingdom's mosques, visiting programs in the two campuses' external facilities, and suspension of studies in schools until further notice.
The official news agency (SPA) said that the General Presidency of the Grand Mosque and the Prophet's Affairs suspended the visit programs at its external facilities.
These facilities include the "King Abdulaziz Complex for the Kaaba Cover, the Gallery of the Two Holy Mosques, and the Library of the Holy Mosque of Mecca."
But in conjunction with that, the entertainment authority in the Saudi system announced the organization of the "dog walking" event.
The precautionary measures were not taken for the festivals and parties sponsored by the Saudi Entertainment Authority, primarily since the official account of the Authority on Twitter was published on the continuation of the Italian circus activities in the city of Jeddah. Besides, festivals in other regions were maintained by the Royal family.
Social media users addressed the decisions to prevent Umrah visas, evacuate the Kaaba, and organize the effectiveness of dog walks and entertainment activities with a kind of irony and amazement.
Amid dissatisfaction with the banning of Umrah visas and the evacuation of the Kaaba courtyard, tweeters criticized not taking the same measures for festivals and parties sponsored by the Entertainment Authority.
After research and verification, he found that the Saudi Entertainment Authority and its official account on Twitter had published a few hours ago about the continuation of Italian circus events in the city of Jeddah, in addition to maintaining many lyrical festivals in other regions.
Saudi dissident Saad al-Faqih believes that stopping Umrah is a fulfillment of a dream. That what is intended is not the pilgrims' interest, but rather an old wish for Ibn Salman to see the Kaaba without sect."
As for the Egyptian journalist Gamal Sultan, he expressed his surprise at the closure of the sanctuary and the maintenance of theaters. The virus has spread, so why did God's rituals be disrupted, brother?
The Saudi tweeter, Fahd Al-Harishi, accused Iran of exporting coronavirus to the Gulf. He said, "Iran exports coronavirus for the Gulf 48 hours, a sufficient time limit for everyone who has traveled and bypassed law and order. Disclose yourself to protect it and the citizens, because the great Saudi Arabia that contained the entire Islamic world will contain its children, even if they committed mistakes towards it."
"Preventing Umrah visas and evacuating the campus; a wise decision to prevent the spread of the epidemic, keeping tourist visas continuing the concerts; also a wise decision to prevent the spread of modesty," Saeed Al-Ghamdi