Saudi Plots
Saudi regime doubles its support for Haftar in search for influence in Libya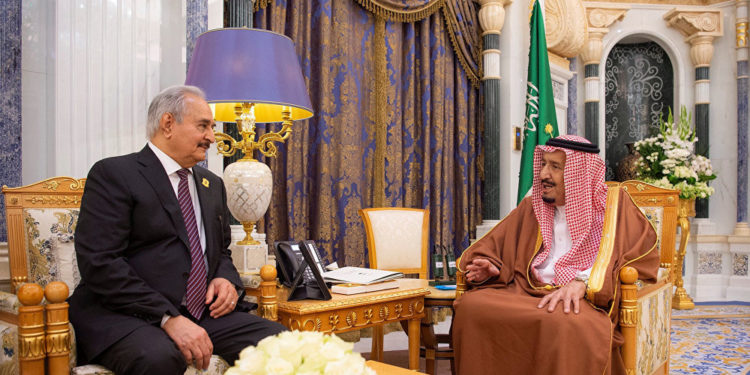 A British website confirmed that the Saudi regime is doubling its support for retired Libyan Major General Khalifa Haftar in attempt to overthrow the internationally recognized Government National of Accord (GNA) in Libya.
The British Middle East Eye news site said that the Saudi regime is intensifying its efforts in order to have influence in any political settlement to the conflict in Libya.
The site reported in an article to the journalist Samuel Rammani that the Kingdom and the UAE are concerned about the increasing activity of Turkey in Libya for the benefit of the internationally recognized national reconciliation government, while the Kingdom's growing involvement in Libya seems clear in the diplomatic and military fields.
The French newspaper Le Monde revealed on January 24 that the Saudi regime had provided financial assistance to the Wagner Group (a Russian paramilitary organization that deployed mercenaries in Libya in support of Haftar's forces).
The author says that although the Saudi Ministry of Foreign Affairs did not address Le Monde's allegations, she stressed in her official statements that Riyadh is focusing, through its involvement in Libyan affairs, on finding a political solution to the crisis in that North African country.
Samuel Rammani goes on to say that the Kingdom's increased activity in Libya indicates a marked shift from its previous cautious support for Haftar and has given up its position on the diplomatic process.
The writer pointed out that the UAE has been supplying Haftar with military hardware since the start of his campaign to control the capital, Tripoli, and regularly participates in diplomatic negotiations aimed at ending the protracted conflict in Libya.
Although the Kingdom played a less clear role in Libya than that which the UAE has been playing, it has guaranteed – according to reports – to provide tens of millions of dollars in financial aid before Haftar launched his attack on Tripoli.
In his article, Ramani believes that the Saudi regime's growing activity in Libya can be justified by its desire to confront Turkey's military intervention in favor of the National Accord government, and in its quest to play a long-term diplomatic role in the Libyan crisis.
The Saudi regime views Ankara's military aid to Tripoli – which coincided with joint gas exploration operations by Turkey in the eastern Mediterranean – as a threat to regional stability.
As a kind of showing its solidarity with Egypt – one of its largest allies in the Arab world – and affirming its opposition to Turkish behavior, the kingdom strengthened its alliance with Haftar.
Ramani quoted the Saudi writer Salman Al-Ansari (the founder of the Saudi-American Public Relations Committee) as telling the "Monitor" news site that Saudi Arabia is "absolutely concerned about Turkish interference in the affairs of Arab countries", claiming that Haftar controls more than 90% of the Libyan lands. It is supported by a democratically elected parliament.
In another statement to the same site, geopolitical analyst Hamdan Al-Shehri said that Riyadh views Haftar's decision to seek help from Arab countries such as Egypt, Saudi Arabia and the UAE as a "positive contrast" to woo the Prime Minister of the GNA, Fayez al-Sarraj, to a non-Arab country, Turkey, seeking assistance.
Al-Shehri added that Saudi Arabia wanted to stand with an Arab country, saying that was similar to its opposition to Iranian interference in Yemen and Syria.
Although a Middle East Eye article attributed Saudi Arabia's double support to Haftar to Ankara's military intervention in Libya, some Turkish and Libyan analysts expressed concern about Saudi Arabia's attempts to establish a sphere of influence in Libya.
Rammani believes that this concern is due to the fact that Saudi Arabia sided with the Salafi-led Islamist movement, which formed militias loyal to Haftar, who espouse an extremist view of Islam.
Tanzo Oztas, a security expert at the TRT World Research Center, claims that Saudi Arabia is seeking to establish an alliance between supporters of the mainstream movement and Salafi groups in the city of Misurata, which would establish Saudi Arabia as a major geopolitical stakeholder in Libya.
Although the UAE remains Haftar's main ally in the Arab world – according to Romani – the importance of Saudi Arabia as a sponsor of the Libyan National Army and opposes Turkish interference in Libya has increased in recent weeks.
The article author believes that if Turkey continues its military intervention in Libya, Saudi Arabia will likely increase its support for Haftar's forces and put pressure on its Western partners in order to get Turkey to moderate its behavior.
Although the Kingdom's strategy to contain Turkey has not yet been clear on its effectiveness, Riyadh hopes that the difficulties Ankara faces in the Syrian Idlib governorate will reduce its interference in Libya.