Saud House Crimes
Saudi authorities arrest the son of a prominent human rights activist in exile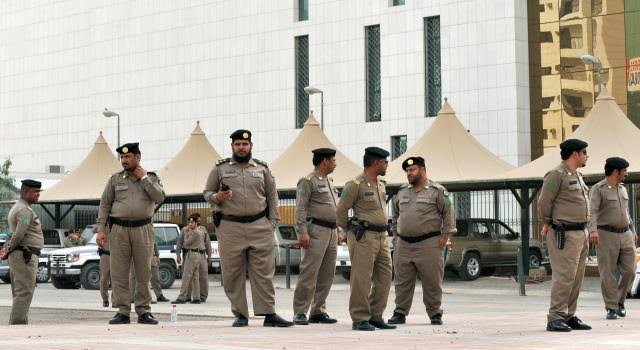 The Saudi authorities have arrested the son of prominent human rights activist Abdul Hakim Al-Dakhil, who lives in exile and is known for his opposition to human rights violations and repression in the Kingdom.
Al-Dakhil announced on his Twitter account that he had been officially informed of the arrest of his only son, Yasser (20 years), a student at Imam Muhammad bin Saud Islamic University, and was subjected to abuse.
Al-Dakhil held the Saudi authorities fully responsible for the safety and life of his son, Yasser, and demanded his immediate release, as his detention was arbitrary and not legally justified.
Al-Dakhil heads The Wina Organization for Human Rights and is based in France. He is the son of the former Undersecretary of the Ministry of Finance, Abdulaziz Al-Dakhil. He was subjected to arbitrary detention for years in Saudi prisons and is currently under house arrest.
Abdul Hakim Al-Dakhil was previously subjected to arbitrary detention in Saudi prisons in 2010 for more than a year without being charged with specific charges or brought to trial.
"I was officially informed that the authorities arrested my only son, Yasser, 20, a student at Imam Muhammad bin Saud Islamic University, College of Economics and Administrative Sciences. He was subjected to abuse, and I hold her fully responsible for his safety and life, and I demand his immediate release."
In Saudi Arabia, stories of persecuted families are emerging whose members were subjected to comprehensive government reprisals in a kingdom that includes numerous violations such as killing, arrest, torture, intimidation and dispersal.
The Al-Hamid family emerges from these stories in light of the targeting and repression of three brothers of human rights defenders and members of one of the most prominent and famous associations demanding political and civil rights in Saudi Arabia.
One of them was killed by deliberate medical negligence in prison, prominent human rights activist Abdullah Al-Hamid, the older brother, while the other two are still detained.
Al-Hamid was arrested several times because of his human rights activism, and he died in April 2020 during his last arrest after a series of medical negligence.
Three months before his death, Abdullah Al-Hamid was taken to the hospital, and the doctor diagnosed his need for a cardiac catheterization. However, he was not allowed to tell his family about his health.
The Saudi authorities returned him to prison, suffered a stroke, fell into a coma and died, knowing that he was arrested in 2013, 4 days after the Saudi government dissolved the ACPRA.
Abdullah Al-Hamid was sentenced to 11 years in prison and the same travel ban on charges of participating in the establishment of the ACPRA and inciting international organizations against the Kingdom.
As for his brother, Dr Abdul Rahman Al-Hamid was arrested about a year after his older brother, and he is the first president of ACPRA after its establishment in 2004.
Abdul Rahman Al-Hamid holds a PhD in Islamic economics and is a member of the Training Authority of the Technical College. He was sentenced to 9 years in prison, followed by a 9-year travel ban and a fine for participating in the establishment of the ACPRA, calling for demonstrations and insulting the authorities.
The third brother and the last head of ACPRA before its dissolution, Issa Al-Hamid was not left alone outside the prison, as he was arrested in October 2017 as part of the arrest campaign that began in September of that year.
He was sentenced to 11 years in prison, an 11-year travel ban and a fine for his contact with international organizations.
In prison, he was prevented from communicating with the outside world. He protested by going on a hunger strike until he was allowed to visit.
One of the stories of persecuted families in Saudi Arabia is the Al-Hathloul family.
The most famous family member is Loujain Al-Hathloul, a women's rights activist who was arrested more than once, most recently in 2018, as part of a fierce campaign led by the Saudi government against the most prominent feminist activists in the country.
Loujain Al-Hathloul was subjected to systematic torture, supervised by the former advisor in the Royal Court, Saud Al-Qahtani.
She was electrocuted, beaten, force-fed to the point of vomiting, sexually harassed and threatened with rape and death.
In February 2021, Loujain was released, but today she is banned from travelling and speaking publicly to the media.
In 2018, at the airport, Loujain Al-Hathloul's parents learned that they were banned from travelling outside Saudi Arabia.
The family tried to find out the reason for the travel ban by communicating with the Ministry of Interior and the Presidency of State Security, but no legal justification was provided.
The three sons, Alia, Lina and Walid Al-Hathloul, are exiled from Saudi Arabia and have been deprived of seeing their parents and sister for a few years.
The three brothers formed a voice to defend human rights in Saudi Arabia and advocated for their sister's cause in the media and social media.
One of the stories of persecuted families in Saudi Arabia is the Qureiris family.
In June 2014, the Saudi General Investigation Department arrested Reda Qureiris. Today, he is in the mabahith prison in Dammam, serving a 12-year prison sentence.
Three months later, 14-year-old Murtaja Qureiris, the youngest political prisoner in the country, was arrested.
The Public Prosecution demanded his crucifixion for participating in demonstrations when he was ten years old. He was later sentenced to 12 years in prison.
At the end of 2018, Father Abdullah Qureiris was summoned to the police station to be arbitrarily detained until April 2021, despite his deteriorating health condition.
In January 2021, the fourth son of the family, Jawad Qureiris, was arrested, and the Public Prosecution office demanded his death.
The eldest son of the Qureiris family, Ali, was the victim of extrajudicial killing. He was killed in 2011 by Saudi security forces while participating in a peaceful demonstration.
In 2011, demonstrations began to coincide with the Arab Spring in eastern Saudi Arabia.
The Al-Faraj family was vital in organizing the movements to release detainees and stop discrimination and political reform, as they were killed, arrested, disappeared and tortured.
In January 2017, Saudi forces stormed the home of the Al-Faraj family and took away the human rights defender.