Sanctities Politicising
Theft of the Two Holy Mosques… Anger at the Saudi regime's imposition of multiple Hajj fees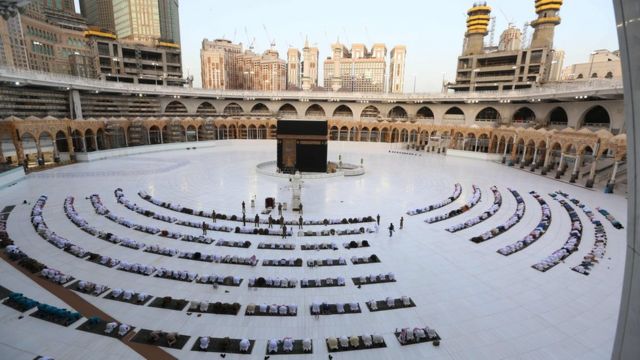 The Saudi regime's imposition of different prices and packages to perform the Hajj was met with widespread anger amid accusations of stealing the Two Holy Mosques.
For the second year in a row, the Saudi regime singles out a mechanism for performing Hajj without consultations with the Muslim countries under the pretext of the pandemic.
Last year, the Saudi regime satisfied itself with a minimal number of people to perform the Hajj, which was met with widespread Islamic rejection and anger.
A few days ago, the Ministry of Hajj and Umrah in Saudi Arabia announced the Hajj for 2021 would be limited for citizens and residents of the Kingdom, with a total of 60,000 pilgrims.
The Ministry said that those who wish to perform Hajj should be free of chronic diseases.
It stipulated that it be within the age groups of 18 to 65, and they should be vaccinated, in accordance with the controls and mechanisms followed in the Kingdom for immunization categories.
The Saudi lawyer and jurist, Yahya Al-Asiri, described the prices and packages announced by the Saudi Ministry of Hajj for the fees and cost of Hajj for this year as "renting the holy sites."
Al-Asiri criticized the general prohibition of Muslims from practising their religious rites, pointing out that what is happening is a theft of the Two Holy Mosques.
The Saudi Ministry of Hajj had offered three packages for the Hajj season this year. The first category costs 12,113 riyals.
The second category costs 14,381 riyals, and the third category costs 16,560 riyals with tax discluded.
Al-Asiri said, "Leasing the holy sites, preventing people from their religious practices, robbing pilgrims, and taking people's money in this way is a very despicable and fraudulent act."
"These authorities are stealing the Two Holy Mosques as they steal the people, and the thieves of the Two Holy Mosques call themselves "servants of the Two Holy Mosques."
For its part, the Yemen Scholars Association considered the Saudi regime's ban on Hajj for Muslims a major crime, tantamount to infidelity.
The Yemen Scholars Association said that the Saudi entity is an intruder on the nation and is fighting Islam in a way that Muslims do not feel.
"If Saudi Arabia is keen on people's lives and comfort, why does it restrict the sounds of mosques while allowing the sounds of nightclubs?"
"The Saudi regime led the nation to submit to the American-Zionist project in the region and betrayed Islam and Muslims," the Association added.
"We oppose the decision of the Ministry of Hajj and Umrah, which announced for the second year in a row to prevent the performance of the Hajj pilgrimage for those coming from outside the Kingdom."
The Association found that remaining silent on the unjust practices of the Saudi regime and ignoring its questionable decisions that identify with Zionist goals and projects is a crime and an evil that brings punishment and divine retribution.